The Holiday Programme is a fun activity filled scheme running during school holidays. The programme is for young people aged 10-25 years with mild to moderate additional support needs
BOOKING:
We recommend you apply for the activities you would like to take part in as early as possible.

Places will be allocated fairly amongst young people who apply.

For young people not currently members of SYA, applications must be received no later than 15th October.
Young people can participate in arts & crafts, sports, music, science experiments, excursions and so much more. At all times the young people are encouraged to suggest activities they would like to be involved in.
The Holiday Programme runs during the following School Holidays:
February Half Term 2022
Easter 2022
May Half Term 2022
Summer 2022
October Half Term 2022
Christmas 2022
February Half Term 2023
Cost: £13 per 4 hour session at The Hilt. Reduced rates are available for low income families. Trips start from £20 for the entire day!
Location: Afternoon sessions at The Loft @ the Hilt, Hiltingbury Recreation Ground, Hiltingbury Road, Chandlers Ford, Hampshire, SO53 5NP
Trips: wherever our young people's hearts desire (within reason…)
Please get in contact to find out more about this provision. Email Ross or give us a call on 02380 650514.

This project is funded by Hampshire County Council's Short Breaks Grant. Young people aged 10-17 can access this provided they have a gateway card.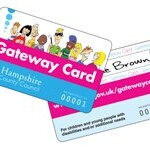 For more information on how to apply for a gateway card and all the wonderful benefits it comes with, please click here